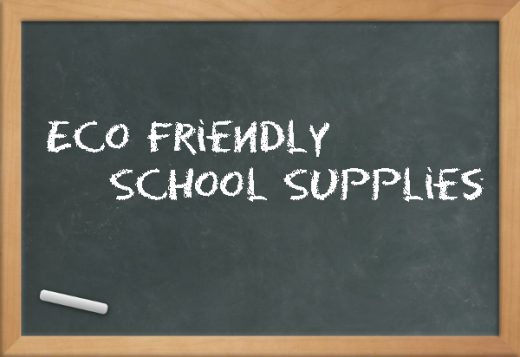 Though it's still pushing 80+ degrees around the country, it's back-to-school shopping time again. While the appeal of shiny new pencil boxes and a unicorn-covered Trapper Keeper is undeniable, all that new stuff often ends up in the landfill come September.
So, here are a few ways to keep the school year a little more eco-friendly, with a variety of eco-friendly school supplies, recycled and upcycled products, and green art materials.
1. Soy crayons. Nontoxic Prang Fun Pro Soybean Crayons are made from soybean oil. $1 for eight, stubbypencilstudio.com.

2. Paper stationery. Elephant Pooh makes odor-free (promise!) journals with paper made from pulped and processed dung. $9,gxonlinestore.org.

3. Biodegradable pens. These corn pens disintegrate completely about a year after they are thrown away. $2,grassrootsstore.com.

4. Reusable sandwich bags. Pack lunches in Wrap-N-Mat, cotton and non-PVC-vinyl–lined bags. $7, reusablebags.com.

5. Recycled scissors. Kleen Earth scissors have black handles that are made from recycled plastic. $9, amazon.com.

6. Adhesive paste. This glue by Coccoina, made of potato starch, works on paper and fabric. Plus, it is solvent-free and smells like almonds. $8, seejanework.com.
I aslo came across this neat website with fun prints on notebooks, pencils, and anything you may need for the school year! http://www.myobon.com/
<*3 Yardena